The fatteh, Egyptis one of the most popular and special dishes, for different reasons. It is also called fatta or fette, and in this post we tell you what you should know before tasting it, which is a recommended experience for your next trip to this fascinating country.
What's in fatteh
Fatteh, unlike other vegetable-based dishes, has meat as its main ingredient. It can be either veal or chicken, and should be cooked separately in the oven, after having been abundantly seasoned with spices and different herbs such as basil.
Also very important is the bread, which is usually pita bread (Aish Baladi) with a very particular texture: soaked in water or broth, in thin layers. The same goes for the rice, which will act as a base, and the tomato sauce, which will give a special juiciness to the dish.
The list of ingredients that are usually included in fatteh in Egypt fatteh in Egypt are:
Pita bread

Beef or chicken

Rice

Meat or chicken broth

Tomato sauce

Several cloves of garlic for frying

Vinegar

Spices

Salt

Olive oil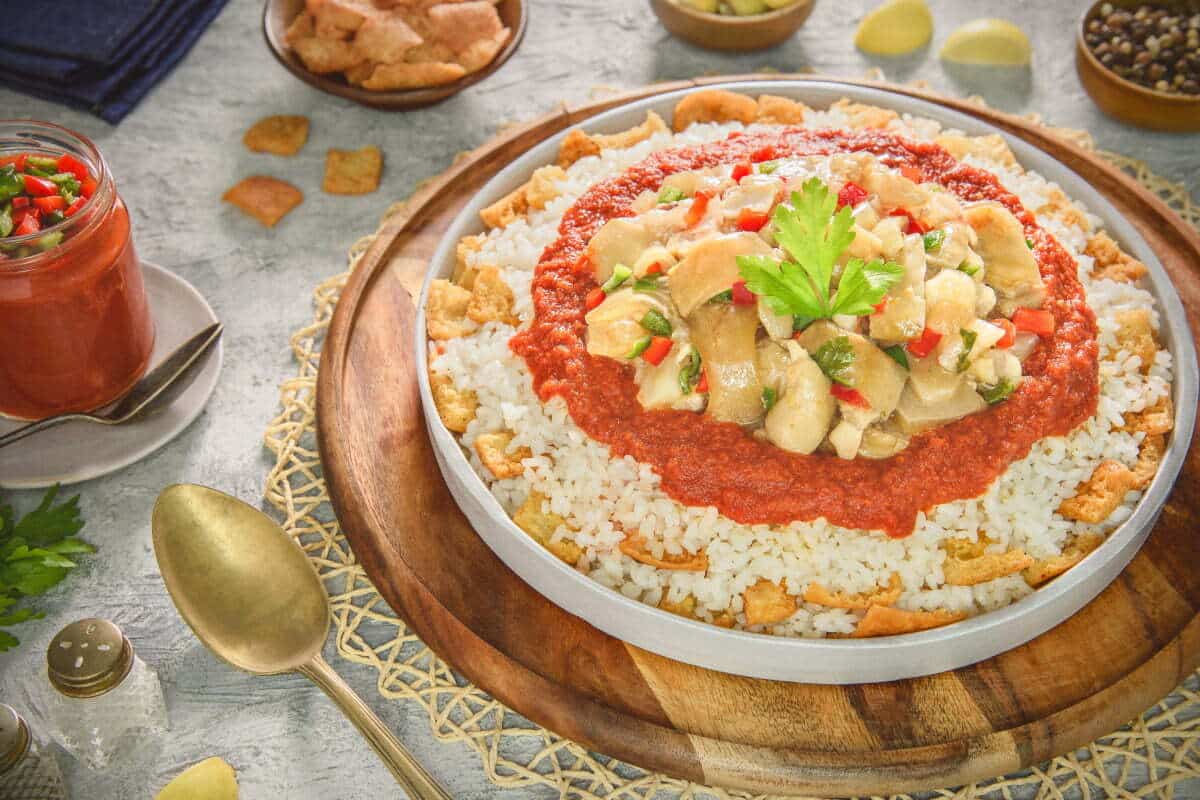 How fatteh is served in
fatteh in Egypt
As we were saying, fatteh is a typical dish not only of Egypt, but also of a good part of the Mediterranean Levant, and in each country it has its own particularities, which has to do with its ingredients and also with the way it is served.
In the specific case of the fatteh of EgyptThe usual practice is to arrange the layers of wet pita bread on a plate or tray and, on top of them, a good base of rice. Pour the tomato sauce on top of the rice and, as a finishing touch, the pieces of roasted meat on top. It can also be served with yogurt sauce, either in the same dish or in a separate bowl.
When to eat fatteh
The fatteh, EgyptIt is not only very popular because of its flavor, but also because it is usually cooked and eaten on special occasions. This is the case for weddings, but also for the celebration of the birth of a child or any other situation that brings many guests to the table.
Moreover, as it is a very consistent dish, capable of satiating the stomach on its own, it is also often used as an iftar meal, i.e. the night meal that breaks the daily fast during the Muslim Ramadan.
Where to eat
fatteh in Egypt
Luckily for you, not only can fatteh be eaten at family gatherings or iftar, but it can also be eaten in restaurants in virtually every city in the country. This is a very common dish on the menu of Cairo restaurants, but also in other large cities such as Alexandria or Luxor, among many other examples.
If you have in mind to try the fatteh in Egypt during your trip, you can ask our guides where to do it: they are very knowledgeable about the cities they will guide you through and, therefore, they will know how to recommend a good restaurant for it.