In recent years, Egypt has been able to exploit the beauty of its ancient monuments in a different way: nighttime illumination. The spectacle of luz and sound at the Pyramids of Giza is one of the best examples, but not the only one. In this post we show you which monuments host this kind of shows that can be enjoyed by any public.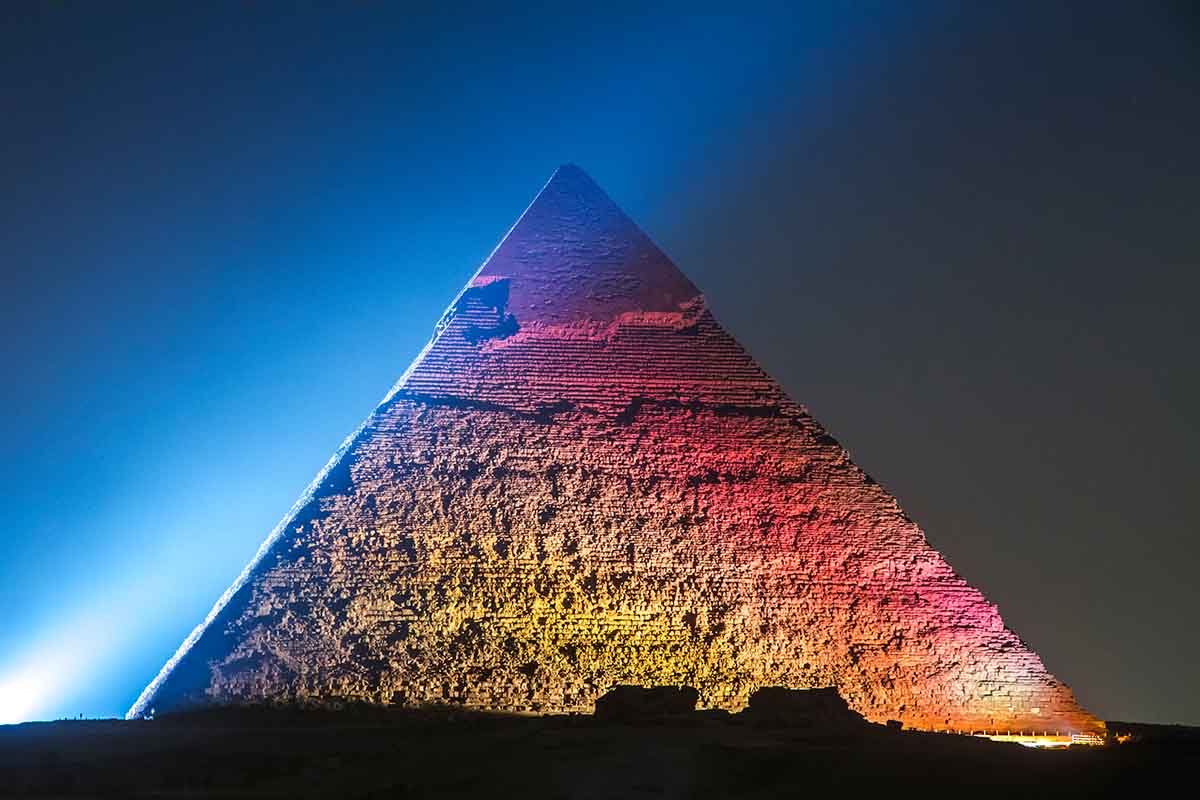 Light and sound
light and sound show at the Pyramids
of Giza
The mere contemplation of the archaeological site of Giza is impressive in broad daylight, from any point of view. But those who are not satisfied with that and want to go one step further, can attend a show by light and sound at the Pyramids.
This show artistically illuminates the pyramids of Cheops, Chephren and Mycerinus, as well as dyeing the Great Sphinx with beautiful colors. The projection reviews the history of these monuments, declared a World Heritage Site by UNESCO. A unique opportunity to see these constructions in unexpected colors, such as blue or green, or to witness a succession of pharaohs and Egyptian symbols in an unbeatable context.
This show is not only visual, but also acoustic: the projections are accompanied by suggestive background music and a narration of what is being seen. There are different sessions scheduled during the week, and some of them are conducted in Spanish.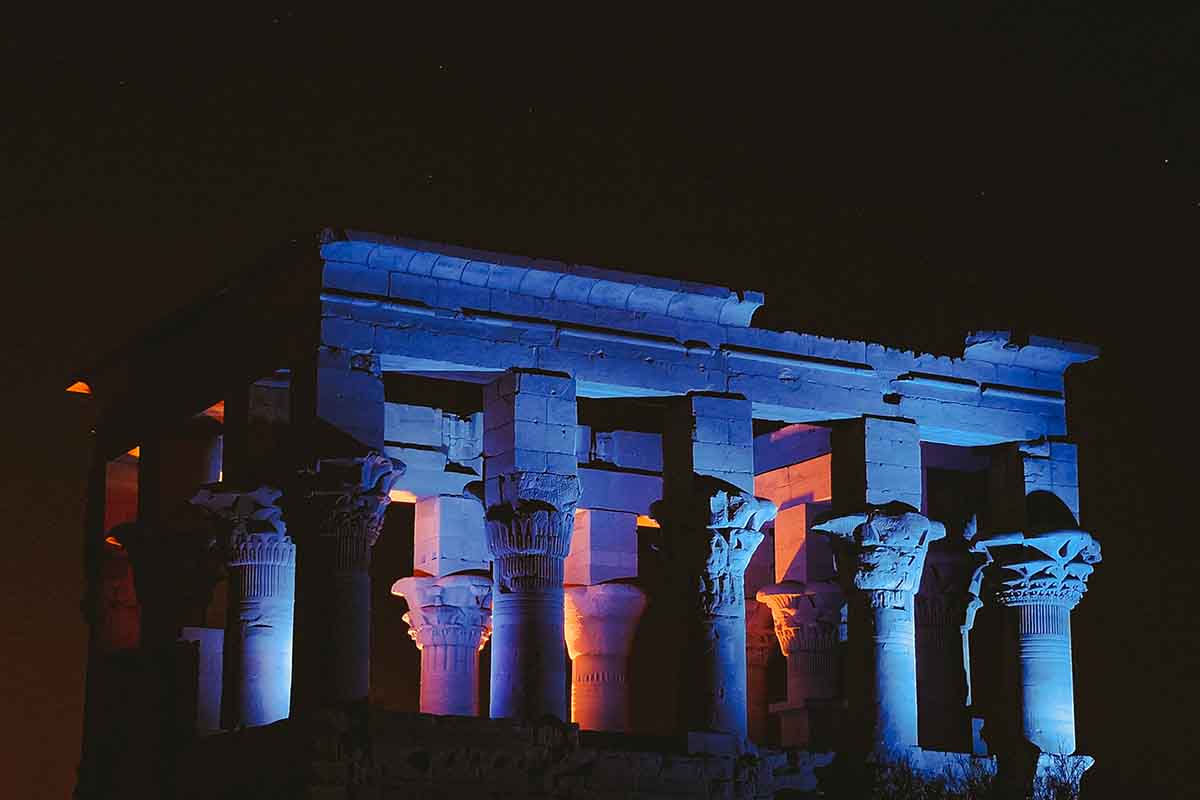 Other highlights in Egypt
Although the light and sound show at the Pyramids, thes Giza is probably the most important and famous, there are many others that will fascinate the lovers of this type of shows. And always, in monuments of the first magnitude, often in Upper Egypt.
The city of Luxor is one of those that exploits the possibilities of artistic lighting. Specifically, in the temple of Karnak, the largest temple in Ancient Egypt. In this way, the beauty of places such as the Great Hypostyle Hall or the promenade of the sphinxes reaches unimaginable heights.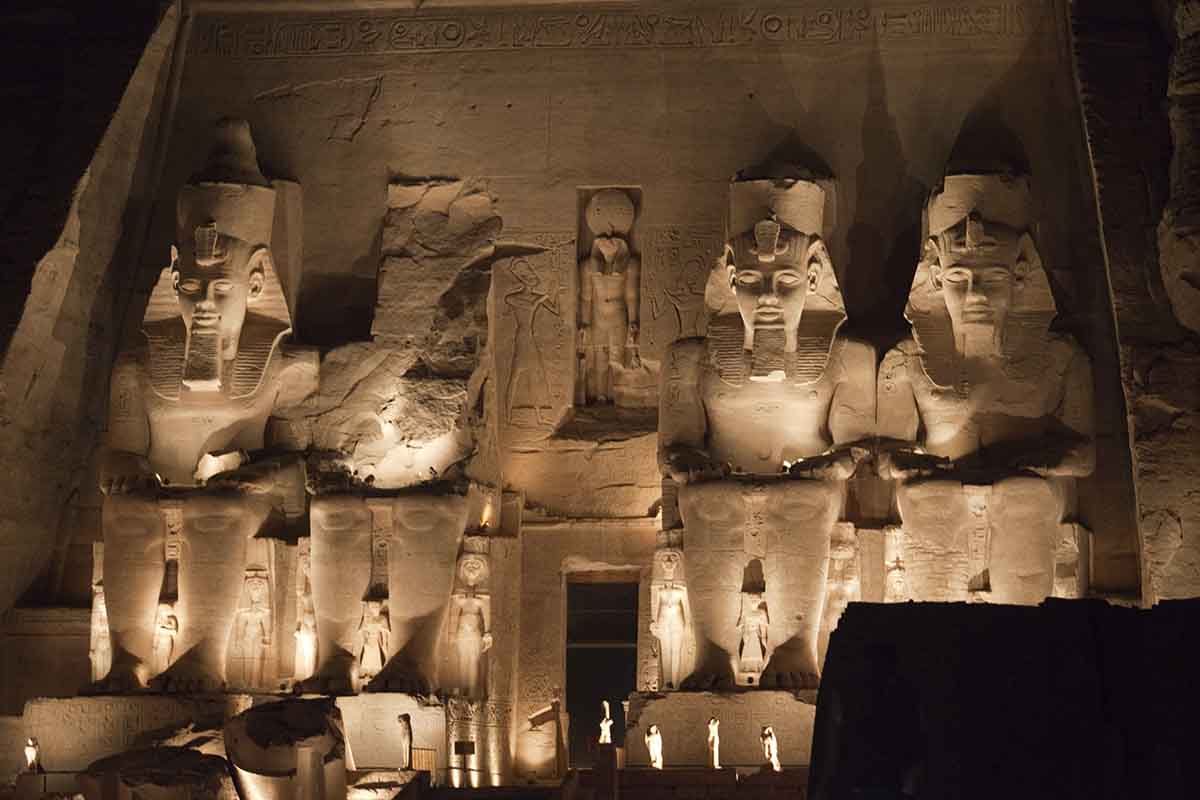 No less impressive is the light and sound show at Abu Simbel, where a grandstand is set up and the facades of the temples of Ramses II and Nefertari are used to project evocative images of Egyptian civilization.
The temple of Edfu is not far behind: its spectacular entrance pylon serves for the occasion as the perfect 'panel' on which to project iconic images of Egyptian art, make solar boats 'sail' or even highlight some of the reliefs present on this facade.
Finally, the light and sound show at the Temple of Isis on the island of Philae has a special magic thanks to its location in the middle of the waters of the Nile: the artistic lighting amplifies the beauty of a place worth visiting at night.
If you want to attend a sound and light show light and sound show at the Pyramids or in these temples of the country, you can organize your experience with the help of Egypt Exclusive. Contact us and we will give you more details.