Parasailing is an aquatic activity with many followers nowadays. And no wonder: it offers such a powerful adrenaline rush and such an original point of view that it is always an attractive proposal for a vacation plan. In this post we tell you what it is, how it works and where you can practice. parasailing in the Red Sea during your next stay in this tourist destination.
What is paravelism and how does it work?
Parasailing is an aquatic activity that is also called parasailing, or even parascending or parakiting, although the latter two terms are less common. It is not a sport as such, since skydivers have practically no control over the movements to be performed, so good physical shape is not required to carry out this activity.
Its operation is simple: one or two people equipped with a single parachute are towed by a speedboat, to which the parachute is attached by means of a winch and a large cable. In this way, the speed reached by the boat causes the parachute to rise a few meters as if it were taking off, and the people attached to the parachute do the same.
This allows them to enjoy a privileged point of view of the environment while moving forward at a breathtaking speed. And all this, with maximum safety, since the people who enjoy the activity wear life jackets at all times and landing maneuvers are performed smoothly.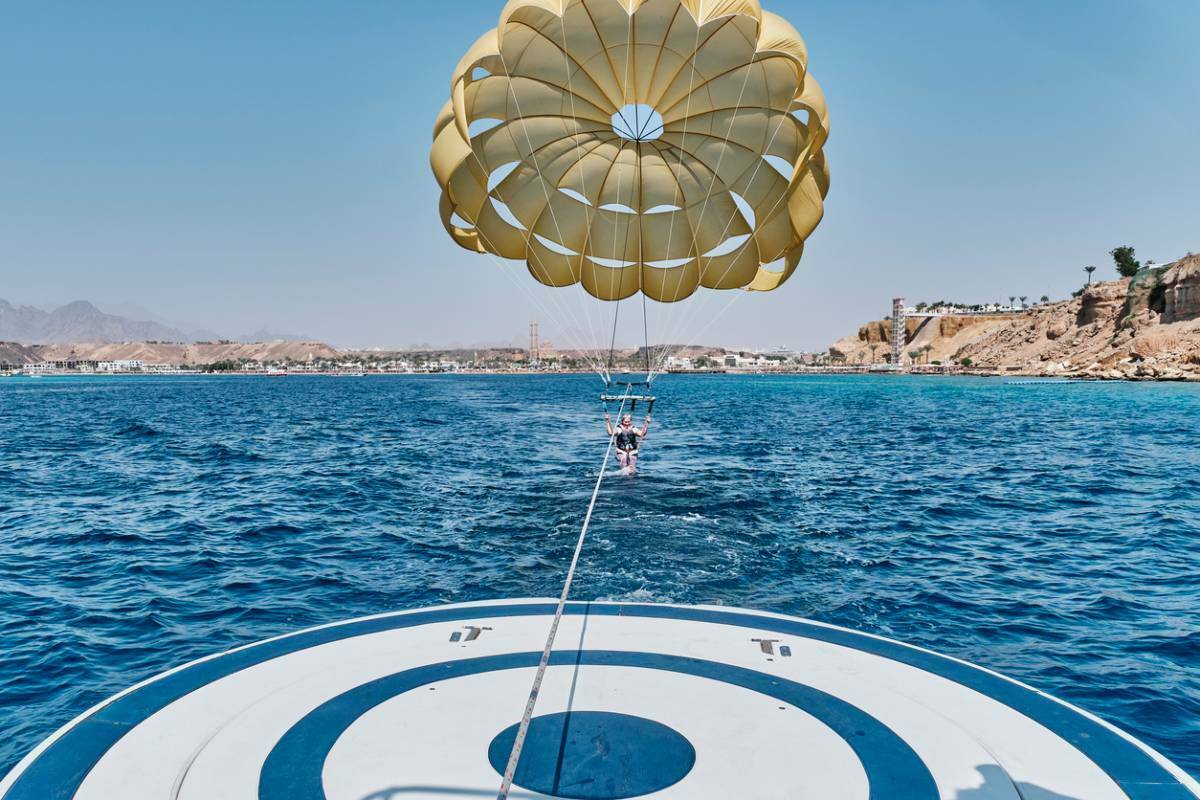 Where to parasail in the Red Sea
The Red Sea stands out as a very large tourist destination with a wide variety of water activities available to travelers. And one of the best examples is this activity so loved by adrenaline fans. To perform parasailing in the Red SeaYou will find more possibilities if you choose the mainland coast of Egypt, as its busiest destinations offer more options for this activity than in the Sinai Peninsula.
Specifically, the following can be mentioned
Hurghada
and El Gouna as the two best prepared destinations for parasailing in the Red Sea. para-sailing in the Red Sea. Many resorts offer this activity to their guests as part of an all-inclusive package, but it is also possible to hire it independently through external companies. In any case, there are also companies located in the following areas
Sharm El-Sheikh
and its surroundings, able to offer this activity in places like Naama Bay.
We remind you that many of our tours in Egypt can include rest days in these tourist destinations, so you will have enough time to practice this activity if you wish. And if you would like us to take care of organizing your experience of parasailing in the Red SeaJust get in touch with us: we can elaborate a tailor-made travel and vacation plan, where this adrenaline-filled activity will not be missing.