Shawarma is one of the most popular gastronomic offerings in Egypt. And, although you may not know it, you may have already tasted it in your country of origin… although its flavor and culinary experience have nothing to do with it. In this post we will tell you everything you need to know if you want to eat shawarma in Egypt during your next trip to the country.
Shawarma: Egypt
has its kebab
The explanation is very simple: shawarma, in Egypt shawarma, in Egyptis the equivalent of kebab in Turkey. Practically, the only thing that changes is the name, although each restaurant can give it its own special touch, of course. This name, in fact, is an assimilation into Arabic of the Turkish word
çevirme
which is the rotating grill where the skewers are turned (
kebab
) of meat before being sliced.
Therefore, it can be considered a heritage of the Turkish domination, which took place in Egypt since the 16th century, although it seems that this dish did not appear until the 19th century. Moreover, as Turks and Egyptians share the same religion, Islam, all ingredients are halal, with special mention of the types of meat: the most common is lamb, but chicken and beef are also used.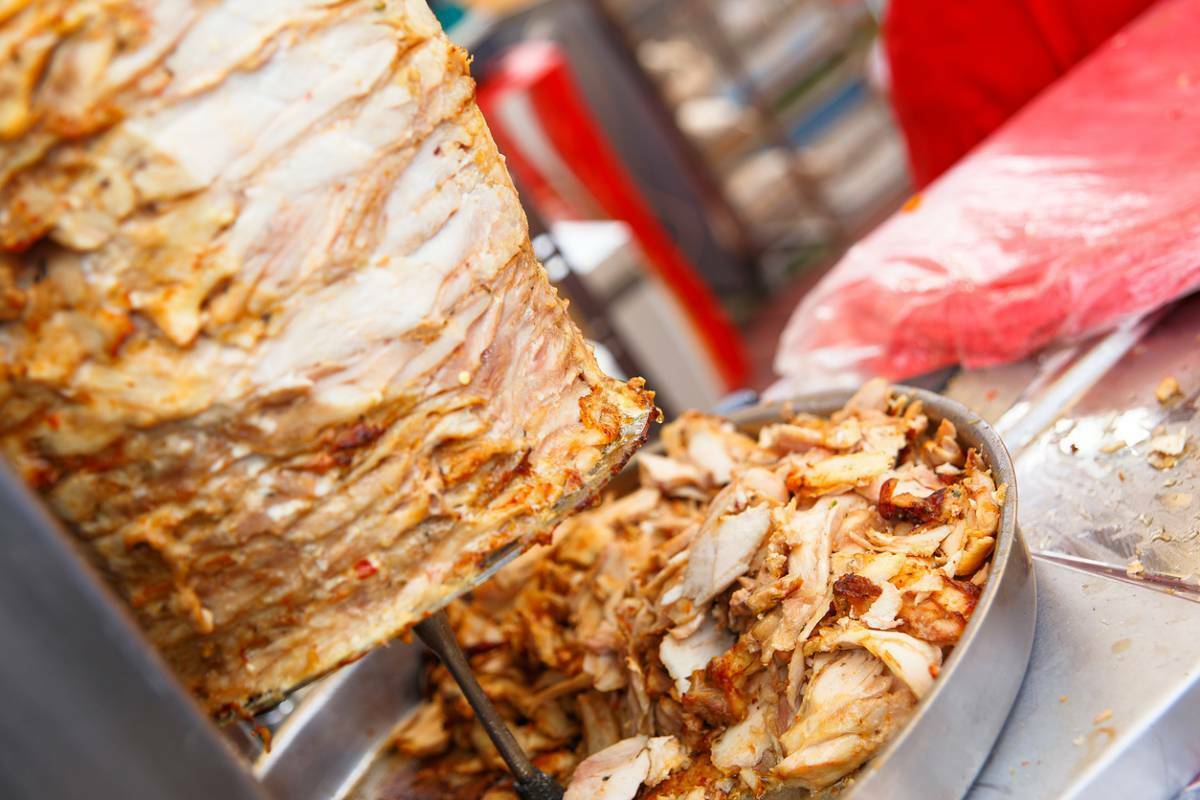 Some secrets of Egyptian shawarma
As we said, you may have already eaten shawarma or kebab in your country of origin, but the taste will certainly not be the same. One of the best kept secrets of each establishment is the marinade to which the meat is subjected, often with spices and seasonings such as cinnamon, bay leaf or cardamom, or even lamb fat for extra juiciness.
For the sandwich or roll, bread is used
lafah
equivalent to pita bread, so popular in the eastern Mediterranean. And within the roll, the ingredients to be introduced make the difference between one place and another, or even between two shawarmas in the same restaurant. The list is very extensive and can include: tomato, cucumber, onion, lettuce, mango, eggplant, roasted peppers or tahini in sauce, which would give it its characteristic Egyptian touch.
As an accompaniment, French fries and a soft drink are usually offered, especially if it is a fast food joint, which makes the Egyptian shawarma a kind of fast food.
Where to eat
shawarma in Egypt
You won't have any problem eating shawarma in EgyptThe locals offering these rolls are everywhere, especially in the big cities. As we were saying, it is very popular among the local population to eat them as fast food, since in these cases their price is very affordable. However, many restaurants of a certain level also add shawarma to their menu of specialties.
Therefore, if you organize your trip with us and ask us for advice on where to eat shawarma in Egyptour staff will be able to point you to places specialized in this delicacy within the reach of any pocket.